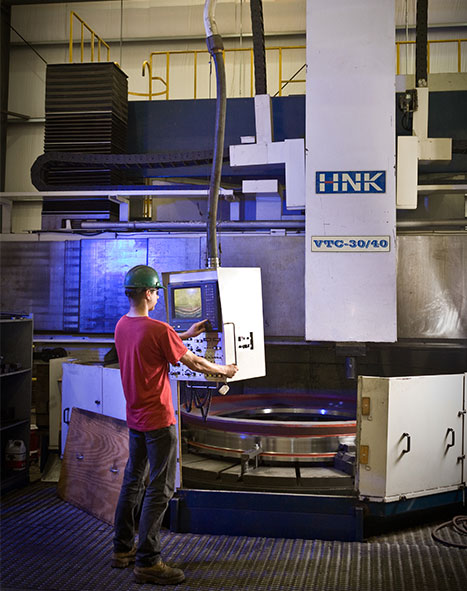 When you're looking for a casting source, carefully consider its capability to machine the most difficult materials.
Our proficiency and capability to machine 700 Brinell hardness materials is well known in the industry.
Weatherly Casting has a specialized machine shop to serve the needs of our most demanding customers.
Our well-equipped Machining & Finishing Department features a wide array of professional machining equipment, which means a quality product for your company and the end user.
After cleaning, Computer Numerical Controlled (CNC) machining meets exacting tolerances and tight customer specifications on the finished product.
We use heavy-duty, rigid machine tools designed to withstand the rigors of machining high-alloy and wear-resistant iron castings.
Some of the robust machining tools include:
Hankook 118-Inch Model VTC-30/40 CNC-Vertical Boring Mill, equipped with a 118-inch-diameter table with a four-jaw chuck, 157-inch swing, 1-rail milling head with 90-degree attachment, 50-taper tooling, and 16-position automatic tool changer
Niles 5-Inch Horizontal Boring Mill with axis travel of 108 inches along the X, 96 inches along the Y, and 80 inches along the Z, with a 36-inch facing head
Giddings & Lewis 60-Inch CNC 4-Axis Vertical Turret Lathe
30-inch to 102-inch Vertical Boring Mills and Vertical Turret Lathes
Niles 16-Foot Boring Mill
Bullard 56-Inch Dynatrol Vertical Turret Lathe with Threading
LeBlond Heavy-Duty Engine Lathe (29-inch swing)
Mitts & Merrill No. 4 Keyseater
D.C. Morrison 1½ -inch Keyseater with tilt table
We also have a full complement of turret and engine lathes, radial drill presses, horizontal boring mills, and surface grinding equipment, including a 36-inch by 120-inch Hanchett, a 34-inch by 90-inch Bridgeport, and two 48-inch by 9-inch Blanchard Grinders with magnetic tables.